Welcome to Toyland, Over 39 years of Breeding quality Falabella Miniature Horses, a wonderful and continuing journey......
All Toyland and AF Falabella miniature horses are Triple registered in AMHA, AMHR, and FMHA, (Falabella Miniature Horse Association) or FBR, (Falabella Blend Registry)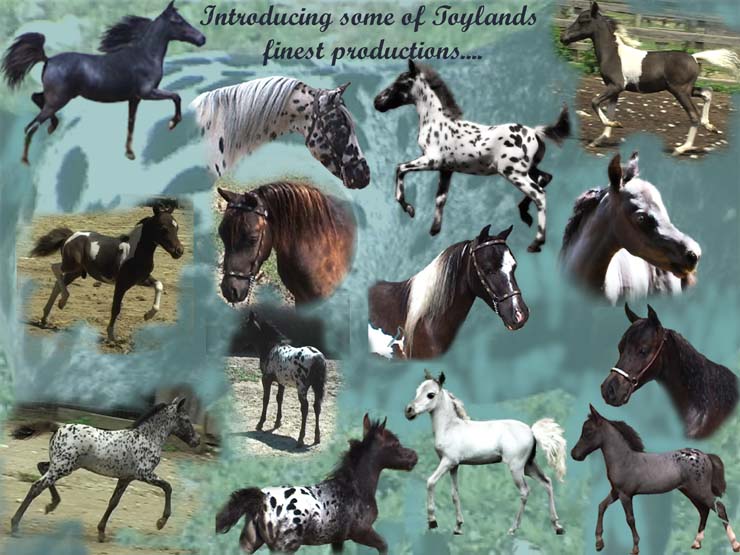 History of the Falabella Horse
The Falabella horse originated in Argentina and is known as the true original miniature horse. It is not a pony. It is one of the smallest breeds of horse in the world with most Falabellas being 34 inches or smaller at the withers as an adult (three years of age). They are similar to Arabians and Thoroughbreds in confirmation, with slim frames and sleek coats, and often carry the Appaloosa spotting patterns. Some have an abundance of hair with long manes and hair around the fetlocks. Falabellas can be registered in the Falabella Miniature Horse Association (FMHA) in the United States and the FSE Falabella in Europe and in the United States can also be registered in the American Miniature Horse Association (AMHA) and the American Miniature Horse Registry (AMHR).
Falabellas are very intelligent with excellent temperaments and easy trainability and are often used as therapy and guide animals because of these qualities and their small size. They are also used as show horses for in-hand classes, or for driving classes, and they can be jumped in hand to heights up to three feet. They are also used as companion animals for both people and other animals. They can only be ridden by very small children.
The Falabella was originally developed in Olavarria, Argentina in 1868 by Patrick Newtall, who used small local horses of Criollo stock and some of the small horses in the Mapuche Indian herds of Southern Buenos Aires, who were descended from Iberian and Andalusian horses brought to the area in 1536 by the Spanish but who were left to survive on their own when the Spanish were unable to conquer the area. These horses went through biological and structural changes to adjust to the conditions of the land. They traveled great distances to find food and water, became very hardy, intelligent, and instinctively aware of the conditions around them. This resulting in inbreeding within the herds, and the production of smaller horses.
Patrick Newtall originally used these horses in his breeding program. They were also the foundation stock of other breeds such as the Criollo. Upon Newtall's death, the herd and breeding program passed to his son-in-law, Juan Falabella, who added other bloodlines including very small Thoroughbreds, the Welsh Pony, and the Shetland Pony. By carefully selecting the smallest stallions to breed to the smallest mares, he was able to continually create smaller sized horses with each passing generation, which was then named Falabella after their family. The herd breeding then passed down to Juan's son Emilo and then to Emilo's son Julio. In the 1940's, Julio Falabella, started the formal breed registry, the Establecimientos Falabella, which is now known as the Falabella Horse Breeders Association, which has the longest recorded history of any miniature horse association in the world, with records going back 150 years. He also standardized the breed to reach a consistent height, which is now less than 34" at the withers. In 1962 the first Falabellas were imported to the United States when John Aleno of Argentina sold 12 stallions that he had purchased from Julio Falabella, to the Regina Winery in Etiwanda, California to be used as driving horses to promote the wine. Most of the horse in the United States descend from these 12 stallions.
In 1980 upon Julio's death, the herd and ranches were divided between Maria Luisa, his second wife, and Maria Angelica, his only daughter. In 1995 Julio's daughter Angela moved to South Carolina with her herd of Falabellas. In April 2006 she sold her entire herd to Laurie Stevens of Toyland Falabellas Miniature Horses including Angela's special picks that were only 26" to 30" tall and whose bloodlines go back to the original herd in Argentina.
There are less than 2000 Falabellas registered in the FMHA since its incorporation in 1973. Only small herds are known to exist in the USA and most other countries, and their number is estimated to be only several thousand in the entire world. There is a strong demand and limited supply due to the small number in existence. There are distinct differences between Falabellas compared to American Miniature Horses. The rarity and purebred Falabella ancestry of every Falabella is what primarily sets it apart from all other Miniature Horses.
*written by Melissa Alvarez (Falabella owner)
ABOUT THE ANGELICA FALABELLA HERD!
By Laurie Stevens, wriitten May 1st, 2006
As I write this historic chapter of an event that has taken place, I am looking forward to the future of the Falabella Breed and continuing to promote and preserve their rare bloodlines.
On April 27, 2006, Angelica Falabella graciously allowed me to acquire her entire herd at her Falabella Farm in South Carolina. Most are her special picks which Angelica kept for herself. Some are very small Falabellas, of 26" to 30". Most important, their lines go directly to the Argentina stock which are from different Falabella lines.
These Falabellas are truly the LAST of the Angelica herd from her South Carolina Ranch. She has retired from breeding because of other things in her life she wants to venture.
It is Angelicas wish that her Falabellas be placed with dedicated Falabella breeders so her line will continue on. I have told Angelica I will do this for her. We plan to keep some for our own breeding program and share the rest with other Falabella Miniature Horse breeders.

PRICING:
Toyland Falabellas generally price from $3,000 USD to $12,000 USD and up. We price our horses according to size, conformation and color. For a specific price on an individual horse, please email or call, group discounts and breeding packages available! We have an excellent selection with all prices for your consideration.